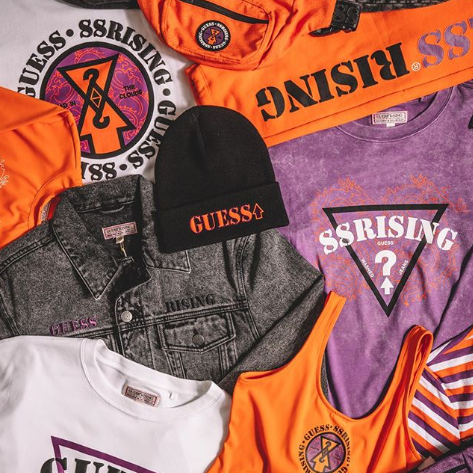 The GUESS x 88Rising Capsule Collection To Release in Cebu
88rising and GUESS announce the launch of their sophomore collaborative capsule collection, GUE88. After an extremely successful freshman collaboration which debuted last November, this year, 88rising and GUESS have expanded the collaboration's offering to a 54 piece capsule featuring denim jackets, hoodies, bodysuits, cargo pants, accessories and more.
The two brands looked to their own iconic symbols, each representing their own story, and combined them to create a graphic narrative that blended equal parts 88rising and GUESS' DNA. Following the first GUE88 collaboration, which had a tie dye focus, the new collection features a heavy acid wash story. Looking to GUESS' roots, acid wash is seen throughout the with a play on color and elevated with premium pima fabric.
"After an extremely successful debut GUE88 capsule collaboration last year - where we sold out two releases within 15 minutes each drop - this year, we're back again for round two. We wanted to build on the tie dye theme from year one, so we based it around an acid wash concept. The majorly expanded line represents the essence of 88rising: we are forever living our lives on our own terms, guided in our belief for creative freedom, and along the way, forging an irresistible energy that enables us to push Asian culture to new dimensions. And we'll keep pushing, leading our specific brand of Asian representation, and inspiring the global youth. Working with Nicolai and his team has been amazing because they're able to capture this energy and match it with their own. They understand what we stand for without it having to be said, and we've been able to create an incredible line because of it." – Sean Miyashiro, 88rising, founder and CEO
The GUE88 Capsule Collection is set to release in Cebu on November 9th in the GUESS Store located on the ground floor of Ayala Center Cebu.
About 88rising
88rising is a musical incubator responsible for breaking Rich Brian, Joji, Keith Ape, NIKI, and the Higher Brothers into the US market. Heralded by Forbes as the bridge between East and West, the face of a new generation of Asian youth by CNN, and an authority on how to create Asian and American pop-culture crossovers by The New Yorker, 88rising is truly an authentic crossing of oceans and the architect of a new youth culture - with Sean Miyashiro at its helm. The result is revolutionary: a celebration of progressive, inclusive youth culture, with a distinct Asian panache. There is much to be discovered in the unique, vibrant, cultural landscape of Asia, across music, fashion, art, food, and more - and 88rising is there for all of it. 
About GUESS?, Inc.
Established in 1981, GUESS began as a jeans company and has since successfully grown into a global lifestyle brand.  Guess?, Inc. designs, markets, distributes and licenses a lifestyle collection of contemporary apparel, denim, handbags, watches, footwear and other related consumer products. Guess? products are distributed through branded Guess? stores as well as better department and specialty stores around the world. As of May 4, 2019, the Company directly operated 1,174 retail stores in the Americas, Europe and Asia. The Company's licensees and distributors operated 550 additional retail stores worldwide. As of May 4, 2019, the Company and its licensees and distributors operated in approximately 100 countries worldwide. For more information about the Company, please visit
www.guess.com
.